Reward Members for Referring Your Site & Growing Your Community
Answerbase administrators can now enable a referral program, where you can reward members for successfully referring their own colleagues and friends to become members of your community.  Your current members will earn reputation points for each successful referral, further recognizing them for their contributions.
Administration Referral Program Settings & History
You'll see this new functionality as an option within your administration site, under "System Settings > Referral Program".  There you will see the option to enable the program, and also some settings you'll want to define for your program.
Points per Successful Referral: You'll be able to define how many points a member will get if they refer somebody to your site, and then the referral successfully leads to the registration of that contact as a new member.
Days to Accept Invitation: You'll also be able to define how many days the referred contact has to signup for it to count towards the program.  This helps ensure that your members have a sense of urgency to promote the service and help convert their colleague as a newly registered member.
The above settings provide both the incentive to refer their contacts to become members, but also a sense of urgency so they assist in making it happen and ensuring the referral turns into a registration.
In your settings area you'll also notice a new "Referral History" tab, which will allow you to keep track of all the referrals that your community is sending out as well as their status.  You can filter that list by time frame as well, giving you the ability to see all of the activity related to this program and the status of requests.
Member Referral Management
When you enable this new functionality, your members will see an option in their account for the referral program.  When they choose to "Refer a friend" they'll be presented with a form which will (1) confirm their own information which will be communicated as the person the referral is coming from and (2) confirm the list all the friends they would like to refer to the program.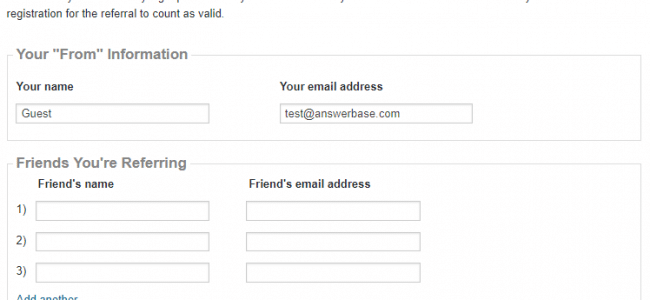 Once they submit the "Send Referrals" button, it will send their friends an email inviting them to the program.  As an administrator, you have the ability to edit what that email says under "Customization > System Emails" in your administration area.  You'll notice a new email type called "Friend Referral Email", and you have the ability to edit that default email template into whatever you'd like to represent your brand.
Your users also have the ability to keep track of all the referrals they've sent through their own "Referral history".  Clicking on this option will show them a full list of referrals they've made as well as the status of those referrals.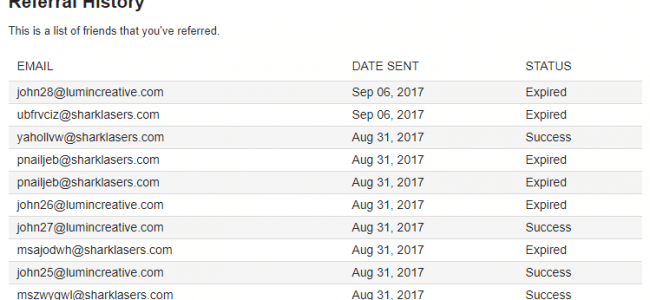 Finally, for any successful referrals, your members will be able to see any points they've received when reviewing their reputation points overview on their profile…where there will be a new line item identifying points received from successful referrals.
This new program allows you to further expand your membership, utilizing the power of your current members and their connections for the benefit of other members and your company.