How to get Rich Results for Product Q&A Content on your Ecommerce Store for SEO
Ecommerce retailers create a lot of quality content relevant to what people are searching for on Google simply through answering product questions on their site. It's common to see this facilitated through supporting product questions and answers functionality on their product page. As the content gets published, it's important to ensure that it's published in a way that Google can most effectively read and then spit out in results in order to attract new customers to their store who are asking similar questions on Google.
This post will explore how ecommerce retailers can most effectively display product question and answer content to get the best results on Google through proper page schema, structured data, and qualifying for getting that content displayed as rich results on Google.
What is the SEO goal for Product Q&A Content?
Potential customers are asking questions related to a product purchase every day on Google. If you're an ecommerce merchant, your goal is to have content that fulfills that content demand and is displayed in results to drive traffic to your site and converts the sale.
Take a look at this great example of how this can be effectively done on a search result where product Q&A content results in a featured snippet result on Google.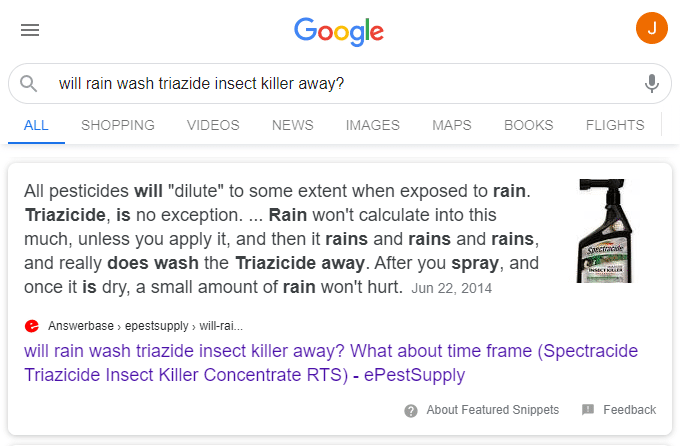 That result is simply content that was created by the ecommerce merchant answering questions that were posted by their current visitors. The content has been published and distributed in a way that Google recognizes and in turn, other customers who are asking similar product-related questions on Google see that content, see the product that is related to the answer, and then is driven to the purchase.
What is the Value of Search Visitors to Product Q&A Content?
Ecommerce retailers see that the value of search visitors to Q&A content can notably impact their store through increased overall traffic and more valuable customers coming to their store through search.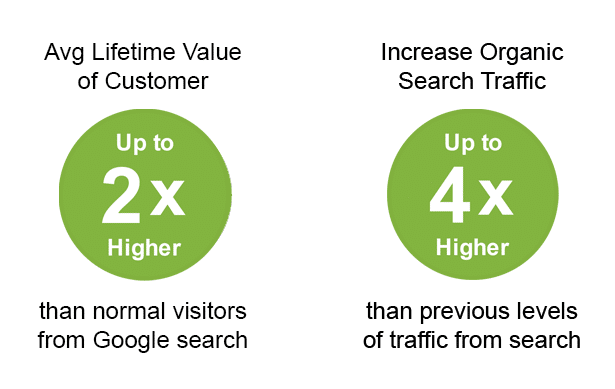 These results show how relevant searches that match product Q&A content are, and where those potential customers are within the marketing funnel as they're looking for product related information on Google.
Also, as you continue to answer questions from your existing visitors, it continues to grow brand new visitors to your site year over year. Here is a chart that shows only organic visitors only to Q&A content landing pages over several years.

As you continue to publish value product Q&A content, that fills the demand of thousands of inquiries every month as potential customers ask similar questions through Google and are led to that content.
How to Distribute Product Q&A Content for SEO
Online retailers with traffic will recognize as soon as they integrate a product question and answer tool into their product pages, they'll start to receive questions about the products for them to answer. As they have their team (and sometimes other customers) post answers to the questions, then it's a matter of distributing that content in a way that takes advantage of that content to get results in conversion and search.
Questions and Answers on the Product Page
The most obvious place to ensure effective distribution of Q&A on your site is on the product pages. This not only helps convert more visitors to paying customers but also ensures that Google can recognize that content on your page and you'll start to see your product page coming up for queries related to that content.
See this example of a product page coming up as a result of the product question and answer content on the page as a customer asks "Best performing Chamois for a 100 mile ride?" into Google:

Google recognizes that the product Q&A content matches a question that was asked by a previous customer on the page, and as a result the product page pulls up in the results.
There are ways of identifying structured data for Q&A content which we'll cover below, but for your product page you'll be using the Product Schema which doesn't currently support identifying the specific Q&A content on the page. As product Q&A is becoming a staple on product pages we do expect that to be worked into the product page schema…but until then it's enough to simply get your product Q&A content displaying on your product page which will get you results like mentioned above.
Product Question and Answer Landing Pages
You'll notice when you view one of Best Buy's product pages, that they display the most popular Q&A content on the product pages but each of the product question titles is actually a link that leads to a page dedicated to each Q&A thread.
Those landing pages get picked up by Google as they're recognized as a page dedicated 100% to that product-related question…which leads to results like this on Google:

If this is optimized appropriately for Google and you're ensuring quality answers are being posted to address those product questions, you'll start to see that content showing up as featured snippets in Google's results and many times showing the related product image along with the content.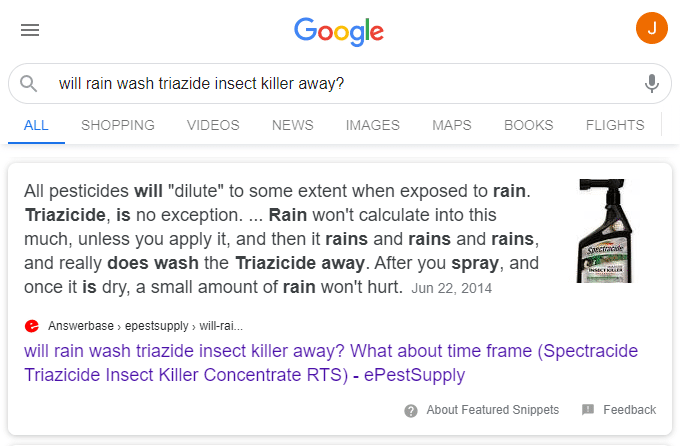 These landing pages ensure that you have a page dedicated to ensuring each specific product query given the attention it should get, because other customers all over the world are asking similar questions on Google…and Google is looking for the content that most effectively answers the question.
It's great to have some of that content on your product page, but when you start getting into having more than 10 Q&A pairs that have been posted per product….you'll not want to publish all of that content on your product page to display by default. Sometimes that Q&A content gets up into the hundreds of Q&A pairs per product over time and you don't want to lose the value of that content that you've created. Expanding that content onto other pages is the way to ensure all your valuable Q&A content is available for Google to crawl and display in results.
Product Q&A Schema for Google's Rich Results
Google recognizes structured content related to product Q&A with the QAPage schema, so you want to take advantage of that for your product question and answer content when it makes sense.
The QApage schema is specifically for Q&A content pages where multiple answers can be submitted by a community of users, so it's perfect for ecommerce merchants who want to not only answer questions themselves…but also want to get other customers who have purchased a product involved in providing answers. If appropriately executed, Google will be able to recognize the structured content on the page in order to identify the question, the suggested answers, the accepted answer, etc.
If you enable this schema for your Q&A landing pages…you can use the Google Rich Results Checker to ensure it appropriately picks up the structured data within the page. The results will look something like this if only one answer has been submitted to the question: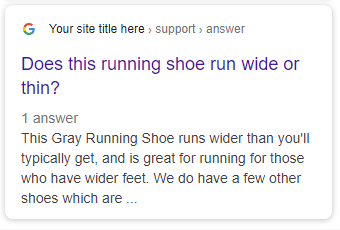 If more than one answer is available, Google shows a carousel of the potential answers to ensure they click into and view the answer that they find the most valuable as shown here: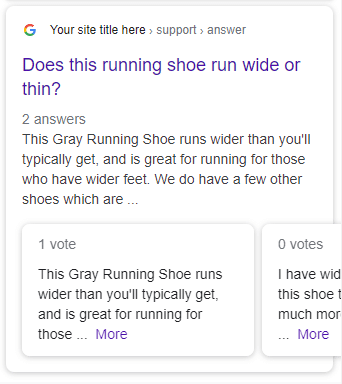 The power of rich results is that it communicates to the person searching that Google has recognized that they're asking a question…and showing within the results content that is specifically catered towards answering that question. This helps increase CTR and leads the user effectively to the answers which then drive product conversion.
How to Add Product Q&A to Your Ecommerce Store
Answerbase powers product Q&A for ecommerce merchants to ensure they can achieve the goals laid out above, and get the most out of their product question and answer content. We encourage you to Schedule a Consultation to discuss what product question and answer content can do for your store.
If you'd like to dig into the technology that powers effective product Q&A, you can also Start a Free Trial of Answerbase to review the platform and preview the tools to integrate into your storefront.