What is Ecommerce Conversion Rate Optimization?
Ecommerce conversion rate optimization is increasing the percentage of visitors to your ecommerce site that convert into a customer.   Conversions most commonly would be recognized as the purchase of a product on an ecommerce site, but merchants may also be tracking other conversions like a newsletter subscriptions or other engagements that hold value.  For the purpose of this post, we're going to focus on conversion as the purchase of product from an online store and highlight how a merchant's product expertise can be used to optimize ecommerce conversion rates.
Why Ecommerce Traffic Isn't Converting
In an ecommerce study conducted by NNgroup, they found that 20% of conversion failures were attributed to great product information not being available to the purchaser.
They explained it like this:
In our e-commerce studies, we found that 20% of the overall task failures in the study — times when users failed to successfully complete a purchase when asked to do so — could be attributed to incomplete or unclear product information. Leaving shoppers' questions unanswered can derail a sale or even worse, make shoppers abandon not just the purchase, but the site as well. One shopper in a recent study could not find the information he needed in the product description, so he left the site to search Google for more product information. In the course of his search, he found another site with the same product, a more complete description, and a lower price.
Not providing clear and accurate product information that is easily accessible is not only an issue for your visitors bouncing, but it also can turn what what you initially think is a great conversion into a product return and/or negative review.  L.L. Bean did an analysis of their negative reviews and found that 75% of complaints had their root in incomplete product descriptions or inaccurate sales copy.
Consider what the big dogs in the space do to ensure this problem is solved on their sites:
What are the reasons why Amazon and other popular sites have opportunities to engage the product page and quickly find the information they're looking for about the product through product Q&A, clear descriptions and product details?
Why do most large brands have minimalist design on their product pages that focus on product visuals and information?
The big answer to both of those questions is that if they don't provide that information as the top priority, and a clean and accessible way, they miss out on conversions.
This post digs in on how you can use these methods to assist with ecommerce conversion rate optimization by clearly and cleanly communicating product information and your product expertise on your ecommerce site.

We find that after answering a customer question with an answer that confirms the product is a good fit we generally see an order approximately 75% of the time.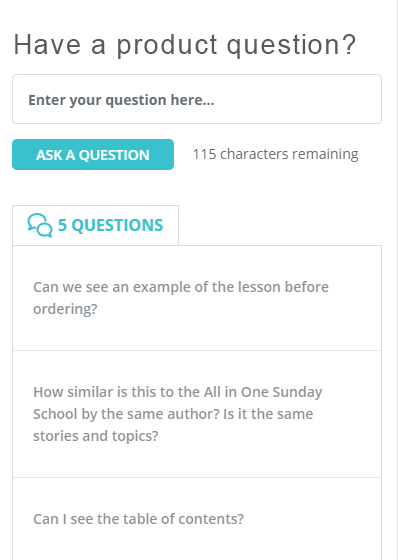 Great Product Information Should Engage the Customer
Why is it that Amazon has a "Have a question?" call to action above the product description and product information sections? Same reason as the rest of this post, to engage the customer to answer their specific pre-sales questions as quick as possible which is essential for ecommerce conversion rate optimization.
As mentioned above, you should provide great product information to your customers and you should give them options to engage your business to get that information …but you need to make that information easily accessible and so the user experience doesn't drown that potential customer.  Let's be honest, some product descriptions make you wonder if you're about to read a novel and just the visual impression alone can make you take a deep breath before beginning. Or worst yet, just choose not to take the time. How is a customer supposed to find the information that THEY are specifically looking for in order to purchase the product?
The answer is having an option for them to engage and ask for the information that they're looking for…and for you to provide that to them. Make sure that your product page has a robust Q&A capability which allows the user to ask their specific product questions and get answers so they will convert.  Answerbase sees that up to 75% of questions that are answered through this functionality convert to a sale, that's money you're leaving on the table if you don't provide that capability.
Great Product Information Should be Available in Different Formats
There's a reason why Amazon offers several easy ways for customers to find the product information they're looking for. It's the reason they have the following covered:
product images
product description
videos about the product
product specifications
product questions & answers
product reviews
The reason is that great information related to a product which is easily accessible is a key driver in ecommerce conversion rate optimization, and different people have different learning styles and preferences on how they'd like to see that information provided. If you're missing any of these elements for each of your products you may be missing out on valuable conversions.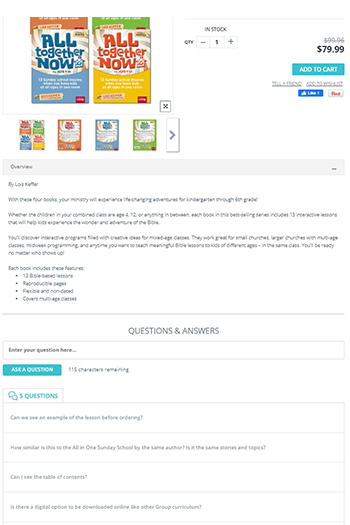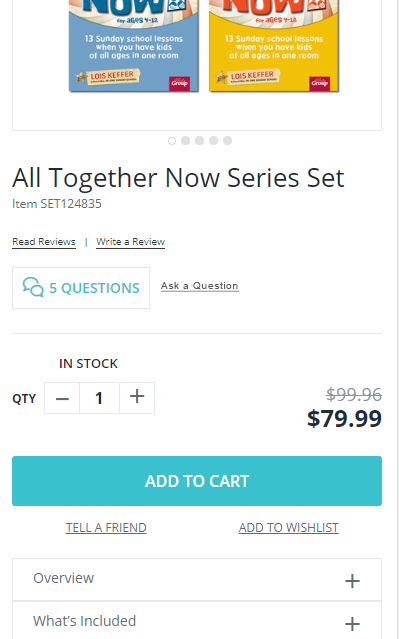 Providing Great Product Information Shouldn't Clutter
While you need to have all the information that each customer may want to seal the deal, you also need to not clutter the user experience. I know we just covered how you have to have all this great product information available, and now we're telling you to not clutter the product page. You're probably asking yourself, "What gives?". You can do both of those things well, and it comes down to how that content is made available and the design applied to that content.
There's a reason why huge brands have come to appreciate minimalist designs for their online stores. It's the same reason why shopping cart providers like Shopify, Bigcommerce, Volusion, etc. also moved their default templates to minimalist designs. It's because a clean design on the product page which focuses attention on the product information that specific customer is looking for helps with ecommerce conversion rate optimization.
Minimalist design doesn't need to mean less valuable information, you can use tools like video and image sliders or carousels to give many visuals in a small clean space, a concise product summary, a product Q&A feature to get quick product details and specs, as well as accordion tabs for more detailed product descriptions and specifications to view as needed or wanted. These elements can keep your product page packed with information to convert new customers while still keeping the user experience clean and uncluttered.
Data on How Great Product Information Increases Sales
As mentioned in the beginning of this post, NNgroup's study saw 20% of conversion failures were attributed to incomplete or unclear product information. As a provider of product page Q&A solutions which helps solve this problem, our own data supports this as we see a very high conversion rate for customers who get questions answered and also leading customers asking product questions to stores with our product…ready to convert.
We released a case studies around these results, and one covering how Rvupgrades noticed an immediate impact on their conversions by offering more product information through Q&A content and capabilities:
We find that after answering a customer question with an answer that confirms the product is a good fit we generally see an order approximately 75% of the time.
There are additional benefits to making great product information available on top of ecommerce conversion rate optimization, these other benefits can be gained alongside an increase in overall conversions and increasing the lifetime value of customers.  Let's highlight a couple….
Acquiring Customers Asking Questions through Search Engines: We've seen product Q&A content lead to up to a 4x increase in organic search traffic, becoming a top driver in overall new customer acquisition.
Increased Avg. Lifetime Value per Customer: Answerbase sees that the Avg. Lifetime Value of new customers acquired through people finding Q&A content through search is up to 2x more than others coming from Google in general. The reason? As NNgroup's study found, the Q&A content is solving specific problems for the target customers who are already ready to purchase.
We encourage you to provide clear and quality product information, in order to convert more customers and grow your ecommerce sales.
Let's land the plane on these ecommerce conversion tips
We hope that this post has been informative and helpful to boost the conversion rates of your own ecommerce store. Of course, as a provider of ecommerce Q&A software we'd love to be the ones to power this activity on your site….so we'd encourage you to View Details about Answerbase Ecommerce Product Q&A Here…..or feel free to contact us for a demo or start a free trial to see how your customers engage in creating valuable Q&A content for your site. They ask, you answer, Answerbase does the rest:)
Hope everything else is well with you and your business and let us know if there is anything else we can do for you.

We fired up Answerbase Q&A on our product pages and it's been amazing for increasing sales.
Start your 30 day free trial today!
Integrates seamlessly with your ecommerce platform

Answerbase has doubled the overall traffic to our ecommerce site, and increased our organic search traffic by four times!
Start a free 30 day trial today!