How to Engage Visitors on Your Ecommerce Product Pages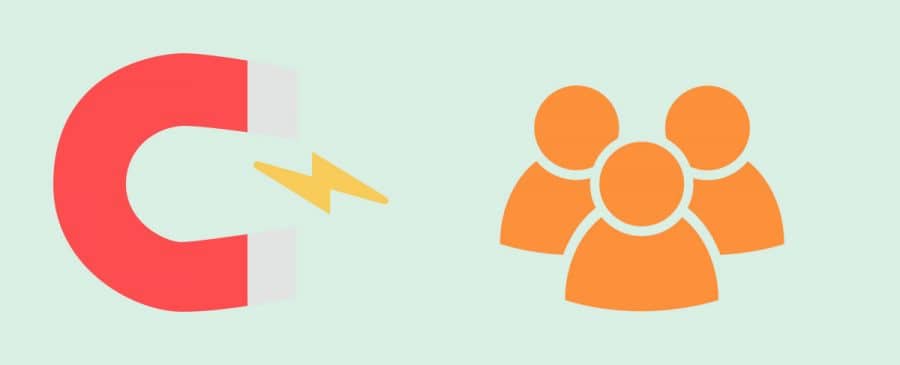 You have consistent new visitors coming to your store, each one a new potential customer but most are visiting a few product pages and then leaving your site without meaningful engagement.  Don't you wish you would have been able to get them to engage with your business, to help them down the sales funnel all the way to the sale?  Let's stop hoping and do something about it, we'll focus on a few ways that you can engage these new potential customers in a way that is valuable to them before they're ready to purchase.
Add a Wishlist Option
Some customers are browsing products that they wouldn't put in the "I absolutely need this" category, and therefor there's a decent percentage of customers who wont purchase the product immediately.  They still may have the mindset of "I absolutely want this", but they're just not ready to dish out the cash yet to purchase.  Let's meet them where they're at, make sure that you have a "Add to Wishlist" option, where they provide you with their email address and ideally their phone number.

This allows allows you to collect their information and then you have the opportunity to add them to your social audiences for advertising as well as notify them when deals are available for that product.  This is a great way of connecting with your visitors, giving you the opportunity to seal the deal down the road.
Add Product Q&A
We would all love to live in a world where product descriptions answered every pre-sales question that visitors have in a way where they'll purchase immediately.  Unfortunately, we live in the real world:)  Your customers are going to have specific details that they're looking for to solve their specific desires for the product, and they're expecting to find that information before they say "Yup, that's what I'm looking for….here's my money".   There many ecommerce stores who are using default manufacturer descriptions or have drawn up very long product descriptions that visitors simply don't have the patience to read through.  Enter product page Q&A.   Typically you'd just add this as either the next tab after your product description, or an option directly under the product description…and that allows users to ask the specific question that they need satisfied before they hit that "Add to Cart" button.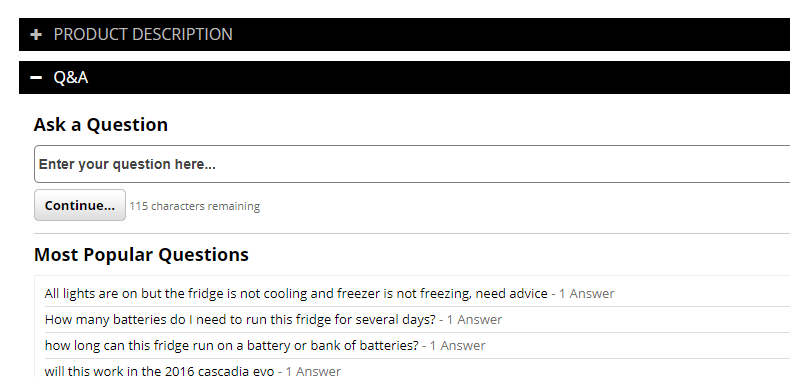 Answerbase's Product Page Q&A will show the most frequently asked questions for the product the user is looking at, and if they start typing in their own question it will find the available answer if that question has already been asked before.  This is a great way of engaging your audience and lead to a conversion.
Of course, new questions that are asked comes with an email address….and if you configure your Q&A correctly you can have those users "opt in" in the process in order to grow your email marketing lists as well as social audience advertising reach.  Answerbase also creates new landing pages for each Q&A thread, so that people asking those questions on search engines find that content and are lead back to your store.  One of the most basic forms of communication is Q&A, ensure you're taking advantage of that for your products….and make sure the software that you're using is taking full advantage of the engagement and content.
Add a Valuable Newsletter Subscription Option
This is an oldie but goodie if you're knowledgeable about the products that you sell and are creating interesting content.  The most important word in our title here is "Valuable", make them WANT to subscribe to what you're offering.  Most sites have a generic "subscribe" option on the header or footer of their site leading users.  If you're really focused on growing your list you'll probably have some point in the user experience which will will have most of the page hidden behind a popup that shows up and asks the users to subscribe.
If you manage this prompt appropriately you can make this engagement a highly desired part of your shopper experience as opposed to an annoying popup that distracts them from their real goal.  Make sure that when you prompt the user, ensure that you have a GREAT reason for them to hand over their email or phone number.  Of course this can include receiving a percentage off of their purchase….but if you have the knowledge and expertise to create a valuable content experience, do that and do it well. We can learn a lesson from more traditional content businesses here…take a look at how the New York Times offers their newsletter option in the image below.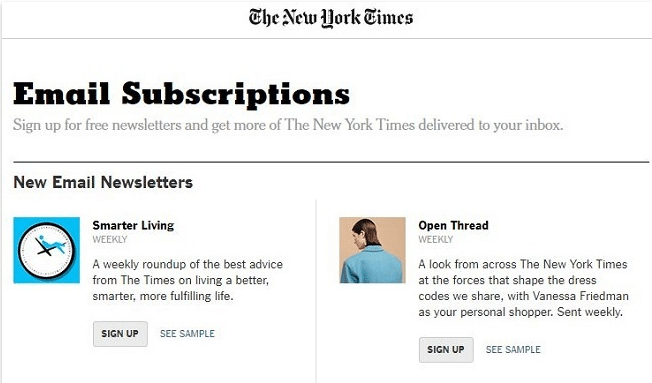 They actually show teasers of the latest email newsletters, and even allow users to see a sample.  If you're a clothing company, and have monthly fashion tips that people will find interesting to read, make sure they get enough of a teaser (above and beyond "we'll send you fashion tips") which allows them to appreciate the content you're creating and want to see more.  As we say often, "Content is King"….so allow them to see some of the actual content as a teaser and make them want to see more of it.  As a result, they'll be throwing their contact information at you and you'll have the opportunity to sell them more product down the road.
We hope you can execute on at least a couple of the above features, to ensure that your visitors don't stay just visitors….but become engaged shoppers and customers.  Happy selling 🙂
Are you an ecommerce merchant? Get more information about Answerbase Ecommerce Q&A Software.