5 Ways To Reduce Ecommerce Returns
Not every Ecommerce sale has a happy ending. You could either get your profits or deal with the product returns. The costs of return deliveries in the USA are estimated to reach $550 billion by the end of 2020, according to Statista. Strict Ecommerce returns policy does not help any more, but rather do harm. Dissatisfied with the ecommerce returns process, customers leave angry reviews and switch to another retailer. In this article, you will find how to handle ecommerce returns and get new opportunities out of them.
Let's have a look at the most popular ecommerce return reasons for a deeper understanding of how to deal with them.
The wrong size, fit or color
Damaged item
Dissimilar online photo and real view (expectation VS reality)
Personal dislike
Changed mind
Late delivery
Bracketing (saving the preferred item and sending back the rest of them).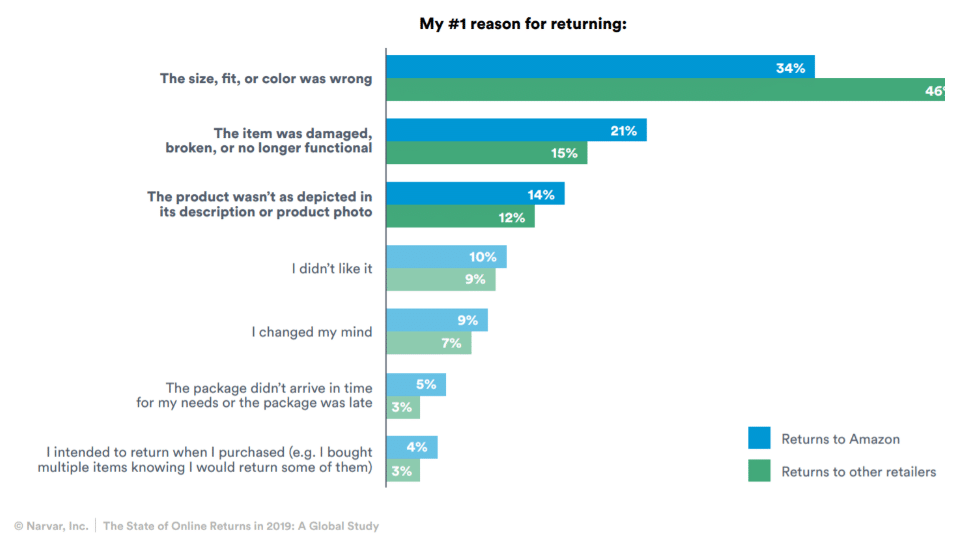 Although some of the reasons depend entirely on the buyer, more than a half could be avoided at the retailer's side. As we see in the graphics above, 58% of returns occurred due to sizing and product photos issues. So now we will focus on how to prevent them.
5 WAYS TO REDUCE RETURNS IN ECOMMERCE
1) Help to choose the right size & share as many product details as you can.
Sizing and fitting data is a big issue here. It's important not to stick to universal sizing tables, but provide the one needed for a particular brand. Moreover, if you get additional sizing data from the manufacturer or the product reviews, add this info to the product description. It will help your buyers to make the right choice.
Augmented reality trends could also help to provide a better experience, and not only in fashion. As an example, IKEA has already launched the AR app to help people test how their desired furniture will look inside their houses.
The decision-making process differs. You never know which little detail could become crucial for a buyer in choosing the product. It should be your top priority to ensure that all the available product data is accurate and published. Extensive product content with all the specifics needed is key to customer satisfaction.
To make your product content even stronger and identify gaps in your existing product information, integrate the Ecommerce Product Q&A into the product pages of your store. Product page Q&A ensures that each customer's specific need is met, and reduces the likeliness of products being returned.
2) Find a balance between making attractive photos and the real image of a product
Retailers often make their own studio photos to make the products stand out from the crowd, get better SEO rankings, and impress the buyers. It's also a great practice to make both studio and lifestyle photos. But be aware, that applying too many enhancements to a product photo makes it look far from reality. So yes, you sell the product, but later it's resulted in returns and angry customers. Be careful here.
3) Encourage your users to share product reviews and answer product-related questions
Social proof today is fundamental for any Ecommerce business. The more reviews the product has, the more popular it becomes, helping other buyers to make the right decision. To get more reviews you can offer exclusive discounts, achievements badges, giveaways among the most active users, and so on. Along with helping your customers with their choice, unique and useful reviews content improves SEO ranking.
But reviews are still not enough, because a customer could need a specific detail, which is not mentioned there. It could also happen that a product has tons of reviews so that it's extremely hard to search through all of them for the demanded product detail. That's where the Q&A section takes the stage, providing customers with the exact data they want to get. Another benefit here is building trust within the desired item since the other customers are answering instead of the store who has a financial incentive.
4) Set up automated product content delivery & optimization
Retailers usually work with a variety of data sources, taking product content from a wide range of manufacturers. Each brand uses its own way to share product information, which is often incomplete within the retailer's needs. To save time on manual work and minimize the risks of mistakes, product content syndication software could be implemented. It will automatically deliver the standardized product information from suppliers directly to your store.
5) Audit your shipments and packaging to prevent damages
If the delivery company breaks your parcel, it doesn't matter how perfect your product and its description are. Keep track of it and if the damage happens, do your best to make the customer happy. If not, an angry buyer could leave dissatisfied reviews not only at your own store but all across the social media channels.
HIDDEN OPPORTUNITY OF A RETURNED PRODUCT
According to Digital Commerce 360, the Ecommerce return rate lays between 15%-30%, depending on the industry specifics. But after a buyer decides to give a product back, the fight for the purchase is still not over. Are you already offering an alternative product in a process or the return? Customers tend to exchange the items they bought, but only if a product returns process is easy. According to ecommerce returns statistics, customers are willing to change the purchased product into a new one. But they choose exchange rather than taking a refund only if the following options are available:
Free shipping for an exchange
Similar product alternatives at the store
Another size
Direct exchange delivery requested online
Different color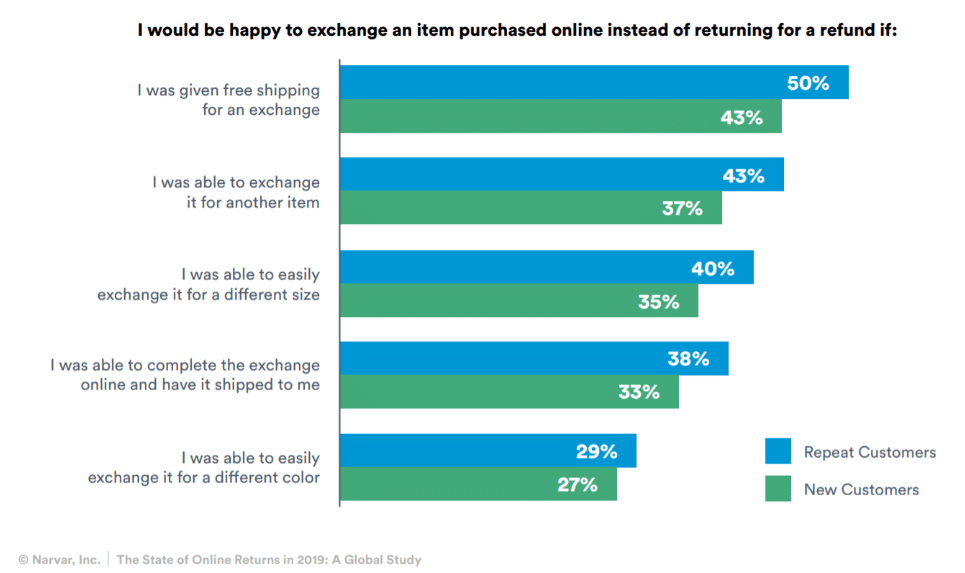 BENEFIT OF IN-STORE RETURNS
One more successful tactic is to encourage your customers to return goods in-store. You could do it by offering more attractive conditions. Product returns statistics show that buyers who get satisfied with their returning experience at the offline store, tend to:
Buy more goods, that were not planned
Purchase planned items
Take a replacement product
Exchange due to color or size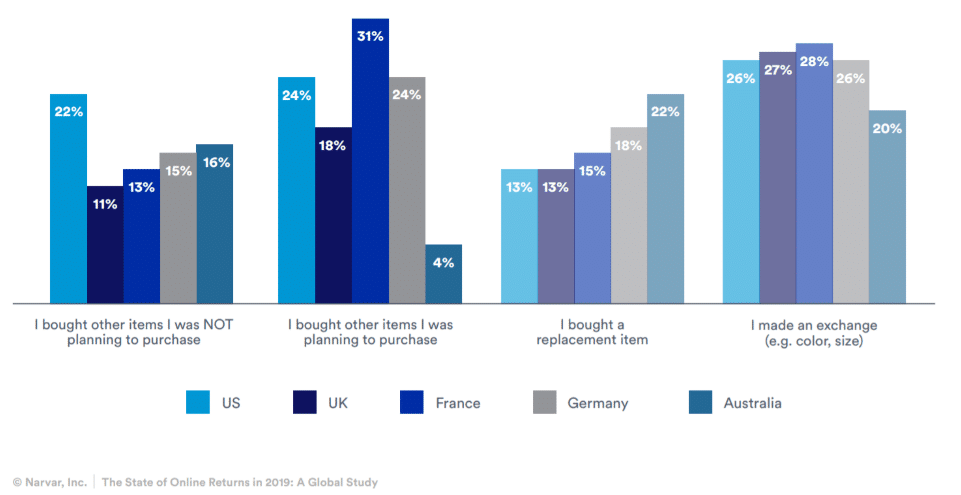 It's also quite a useful tip for retailers to replicate some physical store elements at their online stores. Suggested items are where to get started on this road.
KEY TAKEAWAYS FOR RETAILERS
Product returns analysis helps to optimize sales, logistics, and Ecommerce business in general. So successful retailers constantly keep track of their ecommerce return rate statistics and react with corresponding activities. You could find more surprising statistics and tips in a detailed e-book on how to minimize product returns.
Be transparent about your product returns policy. Be flexible. Be the retailer customers love to come back, again and again. And let your sales rise.
Author: Margo Sakova, Marketing Manager at Gepard