Find answers in product info, q&as, reviews
When customers visit your ecommerce site to consider purchasing a product, sometimes they have questions about the product to ensure that it fits their needs and is exactly what they're looking for. Many times, the answer to their question has already been provided through the product information in details and specifications, within your product Q&As, or even through some of the reviews that other customers have posted about the product. When this information is already available, it's important that your site can automatically answer those questions when the user is asking and suggest that information as answers.
How to find answers in product info, Q&As, and reviews.
You've likely seen this capability on Amazon, when you're utilizing their "Customer Questions & Answers" capabilities and when you start asking your question…it will suggest answers from the content that already exists within the page. The result looks something like this: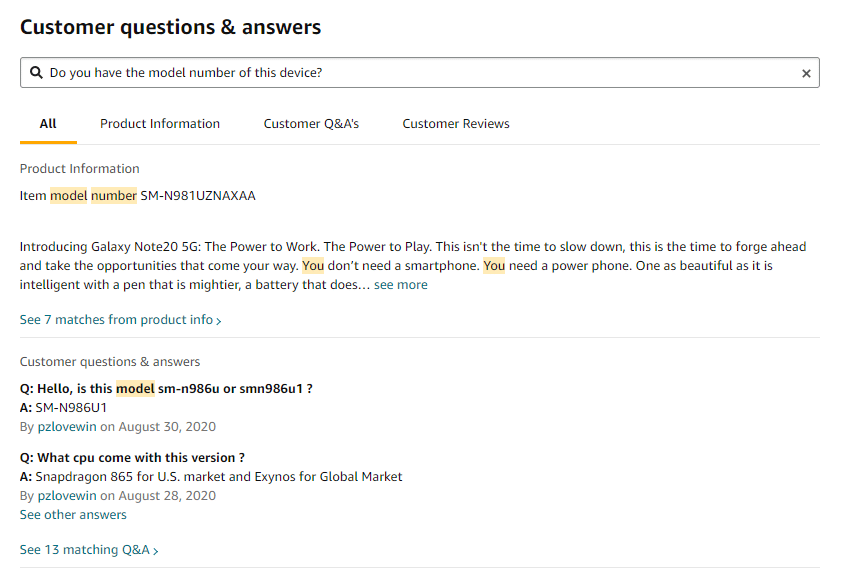 You want to have this capability within your own site. To accomplish this, there are solutions that you can integrate into your product page like Answerbase's Product Questions & Answers solution which will autosuggest answers from the existing Q&A content…but also allow you to identify that you'd like it to suggest answers from other information on the page including your product descriptions, product specifications, product reviews, etc.
Why you want to find answers in product info, Q&As, and reviews.
The reason you want to have your product questions and answers tool find answers in product info, Q&As, and reviews is to answer questions most efficiently for the sake of the customer as well as your business. Customers are looking for an answer and they'd like a quick answer to their question, so if you make it easy for them to find the answers they're looking for they're most likely to convert. In fact, Answerbase see that up to 75% of the questions that get answered convert to a sale. This ensures that they don't bounce from your page to try to see if Google can find another site that has the answer readily available.
This capability will also save your company time and money by reducing duplicate questions. Answerbase sees some sites decrease their inquiries by up to 83% as existing information is suggested as answers and takes care of the customer when available.
This combination of increased conversions and decreased inquiries have a notable impact on your bottom line, as you're increasing revenues while decreasing costs to get them.
Other benefits of product Q&A engagement
Of course, your customers will ask questions that you haven't covered and those will inevitably be posted. The benefits of this engagement and these new inquiries is that it's growing valuable content that can be used to ensure that question is answered for future customers. If you publish the content in a way that is optimized for Google (like Amazon, Best Buy, Answerbase Customer sites, and others), you can also see those Q&A threads pulling up in search results similar to this: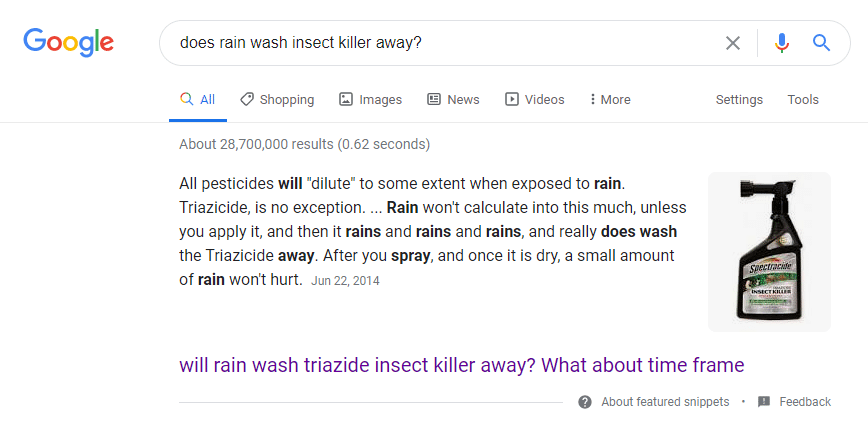 That ensures that you can answer questions efficiently not only for the people who are on your site, but that content can lead brand new customers to your site as they're asking product related questions through Google and other search engines.
Ecommerce merchants will also use that Q&A engagement to identify gaps within their current product information, descriptions, and specifications….and look to optimize that information so it includes the information that is inquired about the most. This ensures that over time, your customers have easy and efficient access to all of the information they need in order to convert to a sale and purchase the product.
We hope this post has been informative. If you'd like information on how you can support this on your site where your product questions and answers capabilities can automatically suggest answers from your product information, reviews, and Q&As….you can schedule an Answerbase demo here and we'll have a product specialist walk you through.