Ecommerce Questions and Answers Case Study - Rvupgrades
Learn how Rvupgrades worked with Answerbase's ecommerce questions and answers to achieve year over year increases in organic search traffic while converting 75% of their questions asked into a new sale.
RVupgrades is one of the largest online retailers of RV parts and accessories, providing everything an RV'er needs to outfit their motorhome or camper. RVupgrades' online store (www.rvupgrades.com) has over 10,000 products available and has shipped over a quarter of a million orders.
RVupgrades has implemented Answerbase's Product Questions and Answers Platform on their site so that customers can easily ask their product questions.  If the question has already been answered, Answerbase will provide the answer immediately to the customer so they can go ahead and convert to a sale.

Answerbase also reads through product descriptions and specifications, where if the information that the customer is requesting is available in the existing details….Answerbase will automatically answer the question from that information as well.

If the question is brand new, it allows the user to post that question and for RVupgrades to generate new answers that will convert future customers.   The product Q&A content is distributed onto pages in a way that drives customers who are asking similar questions on Google to RVupgrades store, driving new customer acquisition and sales.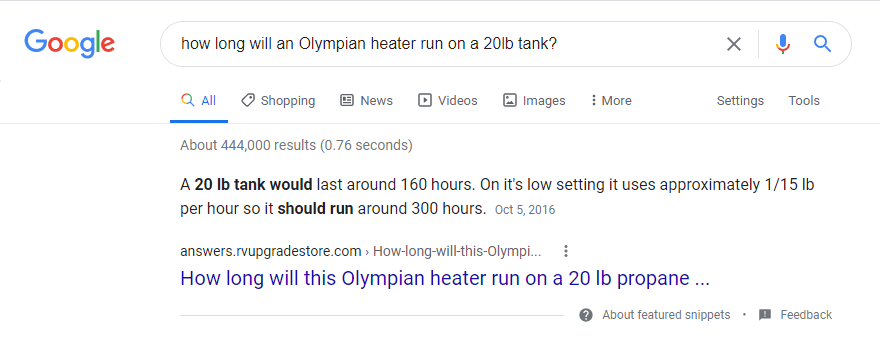 The effective management of product questions on RVupgrades site has help to convert a higher rate of visitors to a sale while also driving notable search engine traffic.   The following ecommerce questions and answers case study communicates RVupgrades experience and decision making regarding supporting Answerbase's Product Questions & Answers on their site, as well as the results they've gotten.
The goal – Increasing sales through thought leadership, growing search traffic, and efficient customer service
As Rvupgrades serviced their existing customers, owner Bill Rowell recognized an opportunity in the types of questions they were getting…
"Many of our products are pretty technical in nature and lead to customer questions depending on their application."
Bill recognized that if they could answer those questions in a way that could position them as an online thought leader, they could be recognized by their current customers as a "go to" for RV related information and also positively impact SEO which would attract new customers.
They were also hoping for a silver lining in changing how they were managing their customer questions. Before turning to Answerbase, Rvupgrades was using traditional emails in order to respond to customer requests.
"Slow, cumbersome email exchange. After answering a customer we had no database or way of efficiently retrieving the information if the question came up again."
This created an opportunity for a win/win/win if they found the right solution that could establish them as an online thought leader, increase their search engine traffic, and make their answer delivery more efficient. These goals led them to Answerbase.  To read more on how Answerbase's ecommerce question and answer software help Rvupgrades accomplish these goals, access the full ecommerce case study below.
Download the full Ecommerce Questions & Answers Case Study
Please fill out the below information about your company and website to download the Rvupgrades case study.