6 Steps to Achieve Content Strategy and Marketing Success
According to a report published by Hubspot (reference at the bottom of this post), 73% of people prefer to get information about an organization through a series of articles rather than a traditional advertisement.  Content marketing is here to stay folks, so now you have to figure out the best way to produce the most valuable content in the most efficient manner.  Fortunately, there is a formula that can give consistent results so we thought we'd share it with you.
Below we've laid out a six-step content marketing strategy that has proven to effectively bring consistent results both in customer engagement and the ability to draw relevant organic traffic back to your site, products and services. While this should of course be tailored to your specific audience, it is an excellent foundation to begin seeing results through content marketing. We also give you a use-case as well, so you can see how the process has worked in the real world…and as they say, the proof is in the pudding.
Let's get started…
Step 1: Systematically recognize quality content
Remove the guessing game and get results by tracking what content your website visitors find valuable. Hone in on the searchable, shareable, valuable content by listening to your visitors. Contact your customer or sales support team and get a report on the common questions they receive. Better yet, add a public-facing Q&A tool (like Answerbase Q&A Software or you can find a more complete list here) or traditional forum software (like Vbulletin or phpBB) to your site which not only gives you insights to popular topics but also creates high-value user generated content. Publicly posted questions can result in tens of thousands of page views per month.
Don't believe us?  Take a look at the graph below shows an individual question page from one of our clients that receives over 11,000 pageviews on its own, with over 9,000 ORGANIC visits from Google per month and growing from just one question asked!

That is extremely valuable user generated content driving both page views and engagement, and a powerful way to identify in-demand content. Use Analytics tools to track your content's performance to identify popular questions and determine the most valuable topics and let that demand determine what subjects you should be posting about.  Through this identification, you can post about topics that solve problems where there is a proven demand!  Check out our Tips for Identifying the Best Content Marketing Topics for more on this topic.
Step 2: Choose a content format suited to the subject matter.
After you determine the subject matter of your next post, determine the format that will best communicate to your audience. The content that is most helpful and is in the best format (most readable, scanable, etc.) will be seen and shared most.  It's important that you identify which format most effectively communicates your message. Content options include:
Traditional text blog posts
Video tutorials
Infographics
Slide Shows
Combination of text, images and video
Best practices here vary. For example, if you're showing someone how to use a hammer don't write a blog post with diagrams. Its simply not the best way of communicating the message, make a short helpful video that demonstrates how to use a hammer and the most useful content based on the user's needs.  If you're interested in reading more on this topic, check out our Guidelines for Choosing the Best Content Marketing Format.
Step 3: Put clear calls to action on your content pages.
According to Hubspot, B2C companies that blog receive 88% more leads than those who don't but in order to see those results you must give your visitors appropriate calls to action to become a lead. Content marketing is no longer optional, and when it's executed right it can turn into new business.
First, determine what your goal is for your content marketing efforts. What are you selling? What response do you want? This is the most important component of your content marketing strategy. Each piece needs to have a clear call to action which accomplishes your goals. There are ways you can accomplish this so you can still keep the content front-and-center but have clear calls to action…hovering divs can be great for this which stay on the page as you read through the content….see this example below.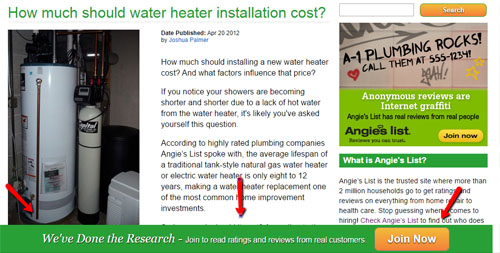 Make no mistake–you don't want it to be spammy. People want useful content. If your content is relevant to your market then you should be able to expose them to your products and services in a natural way through content marketing. If your goal is to sell products on your website, lead them to content-related product(s) or to your online store.  If your goal is to get people to submit a contact form to contact your sales staff, consider having an inquiry form on the page where they can ask questions about how your product or service can help them achieve their goals.
Finally, make sure your calls to action stay in front of visitors through remarketing (aka retargeting).  Using services like Google Adwords and Adroll, you can make ensure that visitors will continue to see your calls to action after they leave your site as they're browsing around the internet.  This gives you the opportunity to continue advertising to your target audience, and gives your visitors the opportunity to engage your call to action well after their initial visit.
We can't stress enough that there must be purpose behind each post, don't post content for the sake of having new posts.  The most effective posts will give your target audience useful information and then the opportunity to respond to a relevant call to action which helps accomplish your business goals.  If you're interested in more information on this topic, we encourage you to read our post about how to get real business results from content marketing with a strong call to action.
Step 4: Effectively distribute your content marketing material.
Now that you're created a piece of valuable content, you need to get people to know that it is out there. Through the internet, high quality content can travel fast. To begin the process of getting content out to your audience, you must begin with a presence on social media. Here are a few "must do" action items for effective distribution: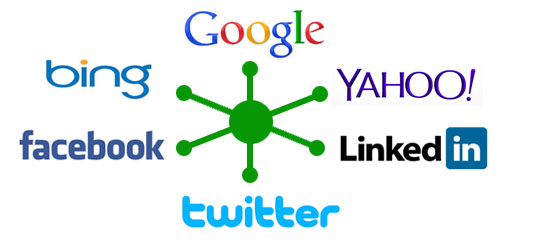 4.1 ) Make sure your content is optimized for Search, to get maximum SEO results.
Get someone on your team who can make sure your site is optimized for search and knows the in and outs of ecommerce SEO. This will increase the impact of your content marketing efforts exponentially.
4.2) Distribute your content on your own social media accounts.
Post your new content with engaging headlines to each social network including Facebook, Twitter, Google+ and Linkedin. The more value your post gives its readers, the more it will get shared. Valuable content gets others to market for you, and with tools like HootSuite (check it out) available it's never been easier to share!
While viral activity is great, you should also ensure the ongoing exposure and sharing of your content through advertising.  Each of the social networks have advertising services which allows you to promote your posts and consistently present them to your target audience.  This allows your content to stay alive and active well beyond the initial post, and can consistently attract relevant people to your site and services.
4.3) Make sure you have social sharing widgets on your content
Don't let the initial exposure simply be a short term boost. As people discover your post and find it valuable make sure you have easy share tools on the post so they are able to share it with their friends, followers, and colleagues.
If you're interested in seeing more content distribution tips, we encourage you to read our post detailing 6 Ways to Distribute Content Marketing More Effectively.
Step 5: Effectively measure your content marketing results
After you achieve the above steps, you should be (1) consistently creating great content that is valuable to your target audience, (2) consistently drawing new relevant eyes to your content, and (3) have the appropriate calls to action in place in order to have that audience engage and accomplish your business goals.  Now, its time to make sure you're able to effectively measure results.
Make sure you are concentrating your efforts on areas that are most effective. What types of posts get the most traffic? Track this through analytic tools like Google Analytics. Monitor how many times a post has been shared. Tools like AddThis make this easy. A good analytics tool will give you detailed reports that allow you to effectively track your content's response and growth.

What posts are getting the most attention? Is it customer service questions? Sales related? Focus your content on the questions that are drawing the most traffic and desired conversions. The market tells you what it wants. You can fill the demand. This is achieved by studying metrics. Learn from your activity and make sure every minute you spend is used to maximize your efforts. ROI is the bottom line.
Step 6: Learn from your results, repeat, and refine.
After going through Steps 1-5 several times, you should be able to navigate which posts work well, what you may need to improve, and where you should focus your resources. Take the information you've gleaned and refine the process. Focus your efforts on subjects that have the best chance of repeating earlier successes. Results are the bottom line. So give yourself the best chance of achieving success by streamlining your process and creating a fine-tuned machine of quality content marketing pieces that give consistent and measurable results.
There you are, a six step content strategy to achieve great content marketing results.
…So, about that pudding!
We wouldn't just leave you hanging with a bunch of claims without any real world examples, so let's dive into the pudding. Let us introduce you to Angie's List, who provides user reviews on local businesses and services. Here's an example of how Angie's List followed this strategy to get clear results.
Angie's List supports public Q&A (Powered by Answerbase) and discovered a high-demand topic by identifying one of their most popular questions: "How much should water heater installation cost?".  In response, they created a more detailed article using the same title but covering the topic in more depth.  Just do a quick Google search for "How much should a water heater installation cost?" and see what pops up….surprised?  Also recognize how they've put all the appropriate calls to action in place in order to get the desired response from all their new visitors (as we showed in an earlier screenshot in Step 3).
Angie's List followed each of the steps we covered:
They identified high content demand by using user generated content through public Q&A. They responded to the demand.
They created an informative, professional blog post with a consistent style that effectively communicates the topic.
The call to action is clear. It includes a summary of what Angie's List is, how to join Angie's List, how to ask a question specific to the visitors' need on the Q&A site and gives users the opportunity to subscribe to the newsletter. Each of these items engages the visitor based on his or her needs and accomplishes the goals of Angie's List.
After the post went live you can see that they distributed the post on their social media profiles like Twitter.
The share options are easy to find. Located at the top of the page, visitors are able to easily share the informative post with their followers.
Take a look at some of our more detailed posts that unpack the above steps. We encourage you to take advantage of this strategy to create an effective content marketing strategy and get consistent results for your website and business.
For those who are interested, here is a link to the Hubspot Report that we reference earlier in the post.