How to Boost Your Conversion Marketing Strategy
Building a website for your eCommerce business is no longer enough. According to the Baymard Institute, 7 out of 10 customers will abandon your webstore before making a purchase. To win conversions and optimize your ecommerce conversion rates, you need to implement tactics to stop this from happening.
A conversion marketing strategy does just that; it implements campaigns both on and off your eCommerce website to increase conversions and reduce cart abandonment. In this article, we share some great ways to boost your conversion marketing strategy.
3 Strands of conversion marketing
Conversion marketing can be split into three main areas of focus;
Onsite conversion tactics that happen on your eCommerce store
Offsite conversion tactics that happen elsewhere online
Post-visit tactics that happen following conversion or abandonment.
Let's take a closer look at each of these and the tactics you can employ at each stage.
1. Onsite conversion tactics
A common misconception in eCommerce is to think that marketing stops once a customer lands on your website.
This couldn't be further from the truth. You've invested time and money getting your customer to your webstore; now is the perfect moment to ramp up your marketing efforts to get them over the conversion line.
You might already be using popups and discount banners, but to really boost your onsite marketing effort, consider highlighting your service instead of price.
Guarantee fast delivery
Offering fast shipping is a great tactic to reach time-poor buyers, last-minute shoppers, and today's impatient consumer. Marketplaces like Amazon and Walmart all offer fast shipping, because it shifts focus away from price and onto service, helping listings to stand out in the crowd.
On your own website, fast shipping is necessary to compete with big marketplaces. Use it to appeal to your customers' need for risk aversion and immediate gratification by guaranteeing 2-day delivery. Even better, include a countdown timer to show exactly how much longer a shopper has in order to receive their item in two days, creating a sense of urgency that drives shoppers to the checkout.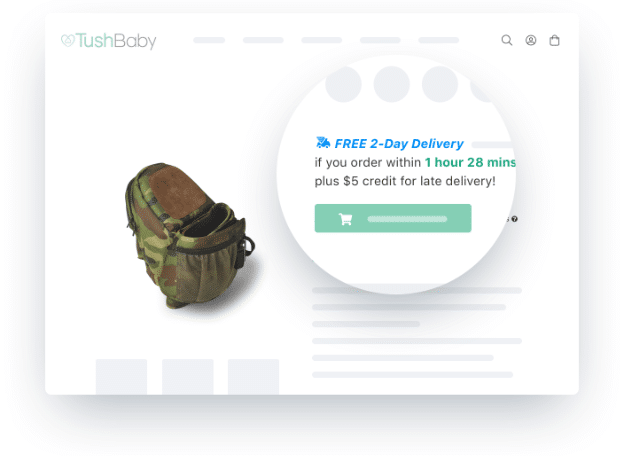 Make product information accessible and clear
Did you know that around 20% of ecommerce failures are due to lack of clear or available product information? Take the time to write great product descriptions but also utilize a product question and answer solution like Answerbase. Answerbase has case studies where up to 75% of the product questions asked convert to a new sale. Don't let the customer leave your site to find the information elsewhere, engage them and convert the sale on your site!
2. Offsite conversion tactics
Customer interest, buying decisions, and even the purchases can happen long before someone lands on your checkout page, making offsite conversions tactics just as powerful as onsite. Consider these offsite conversion-boosting tactics for your marketing strategy.
Social media engagement
97% of shoppers say their decision to buy a product is based on reviews. If you're using Facebook and Instagram solely to promote your website, then you're using them wrong. Social media is a perfect tool for advertising existing customer reviews, to get new customers buying your products before they've even clicked onto your website.
Share reviews in your Instagram Stories, re-post Facebook photographs of customers using your products and create highlights of user-generated photos and videos.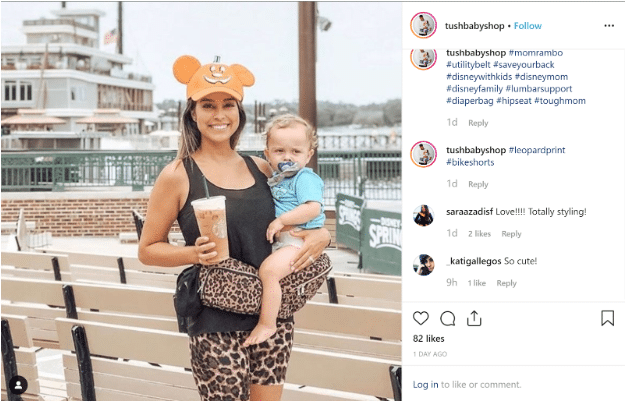 (Source: Instagram)
Multi-channel selling
Multi-channel selling expands your business' reach to online marketplace customers. By using the right sales tactics, such as fast shipping programs and marketplace ads, you can convert these customers on their chosen sales channel.
Following that, you can encourage repeat purchases from your eCommerce website by:
Directing these customers to your webstore by asking them to complete a product review or sending them product recommendations based on their marketplace purchase.
Sending these customers a discount code to use on their first direct purchase or sending details about your loyalty program.
Replicating marketplace fast shipping programs by offering 2-day delivery and implementing fast shipping tags on your Shopify store.
3. Post-visit tactics
And finally, your conversion marketing strategy should include post-visit tactics that bring customers back to your checkout page – whether that's for the first time following abandonment or the second time following a purchase.
Cart abandonment emails
For customers that didn't make it through the checkout on their first visit to your website, a cart abandonment email can bring them back and, if done right, can even increase their original basket size.
Top tips for an effective cart abandoned email include:
Highlighting the benefits of buying from you, including fast shipping, free returns, and product guarantees.
Offering an incentive for completing a purchase such as money off or free delivery.
Adding details of the products left in the customer's basket, along with customer reviews, to make picking it back up easy.
Signing off with a clear call to action, such as "Complete Your Purchase" or "Get the Goods."
Post-purchase emails
For customers that did make it through the checkout, a post-purchase email can bring them back for a repeat purchase and, if executed correctly, can lead to a lifetime of repeat purchases.
Top tips for increasing customer lifetime value using email include:
Thanking customers for their purchase and providing them with their tracking number and contact details should they run into any problems.
Reinforcing the benefits of buying from you, including 24/7 customer care, next day deliveries, or loyalty programs.
Recommending other products relevant to their first purchase, such as complementary items or what other customers usually buy next.
Conversion marketing final thoughts
A conversion marketing strategy doesn't have to be complicated to succeed – you just need to think outside of the box for simple ways to attract attention, entice decisions, and get those customers through your check out.
About the Author
This is a guest post from Rachel Go, who handles content and partnerships at Deliverr. Deliverr provides fast and affordable fulfillment for Shopify, Walmart, Amazon, and eBay stores, helping to boost sales through programs like 2-day delivery for Shopify, Walmart 2-day delivery, Seller Fulfilled Prime, and eBay Fast n' Free. Deliverr's FBA-like multi-channel fulfillment comes with clear pricing, easy on-boarding and a hassle free experience to grow eCommerce businesses.