3 Benefits Product Questions & Answers Must Produce for your Ecommerce Store
There's a difference between checking off the box of  "I have that feature on my store" and "That feature is bringing value to my store".   When you see that Amazon and other ecommerce merchants have product questions and answers supported on their product pages, it's easy to find a quick app to throw onto your own product page and then check that off your list and assume that it's going to accomplish the same goals.   This "check off the box" mentality is a mistake that can cost you hundreds of thousands of dollars (or for larger merchants, millions of dollars) in sales per year.
This post will help you understand what the top benefits that your product questions and answers should be showing you, so you know what to look and ask for when you're looking for a product Q&A solution to add to your ecommerce store.
Organic Traffic Results
There are product related questions being asked into Google every day, and many of those questions are ones that you've already answered for your existing customer base.  It's important that you make sure that your answers are published in a way that Google gobbles up and displays favorably in their results.  You want to manage and publish your product Q&A content in a way that results in the content being displayed in Google like this: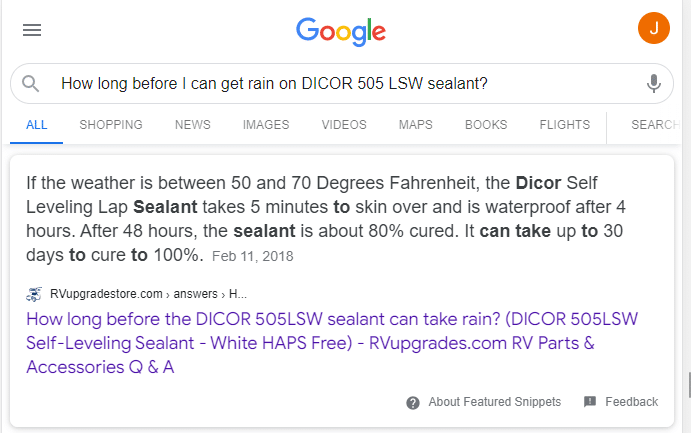 Answerbase's product questions & answers platform spawns landing pages for the Q&A threads which draws those long tail queries to the product Q&A content in order to achieve results like you see in the above example.   It's important to have Google be able to recognize that there is a content piece specifically addressing the question that is being asked into their search, and marking that content up in a way that Google can easily read and recognize the answers to the questions and display it in featured snippets as seen above.
Some notes on what you should be seeing with your Q&A content:
Increased Customer Lifetime Value:  We see that the average lifetime value of customers coming into those pages and converting to new sales is up to 2x higher than normal Google traffic.
Year Over Year Organic Traffic Growth: As you continue to answer customer questions, that content should lead to year over year organic traffic growth that is measurable for your site.  We encourage you to read our Epestsupply Product Questions & Answers Case Study, where Answerbase's product Q&A doubled their overall traffic and increasedtheir organic traffic by 4x.
Again, not all product Q&A is created equally, you'll see that many solutions out there only support product questions and answers with a simple JavaScript widget on the product page.  These solutions often lack important features for both users and search engines to see all of the product related information they'd like to.  For example, many times when using some of the standard product Q&A widgets you'll see that Google doesn't index Q&A content if there is paging of that content….that's a problem as your content grows.  As you scale, more sophisticated solutions are necessary to ensure all the hard work you put into answering questions is rewarded with new traffic and conversions…you need to make sure your product question and answer platform is doing that work for you.
Management of Repeated Questions
You'll notice on many product Q&A solutions, if you type a question into the question form that matches the same exact question that has been asked before…it doesn't auto-suggest that existing content and lead the user right to the sale. That isn't good for conversions, and also has your team spending additional time on questions that have already been answered.
What you want is for the solution to recognize when a question has been asked before and let the user know that an answer is available now, similar to what you see here: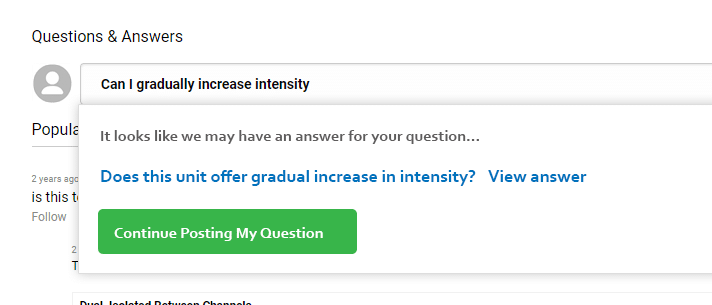 You don't want to make it difficult for them to post their new question if they'd like, but you certainly want to make it clear that they can view an answer immediately if and when it's available.
It's essential that you have a solution that does this, and does it well.  Answerbase sees that for mature knowledge bases we can have questions answered up to 83% of the time through existing content, which saves you time and helps you convert them on the spot rather than them jumping to Google to find the product information there….perhaps on one of your competitor's sites.   Do it well on your site, so they just get the information they need and then convert to a sale.
Increasing Conversions & Tracking Results
You need to make sure that your product question and answer engagement is contributing towards increased conversions on your store and that you're able to easily track the conversions that it's assisting with.
As noted in the quote above, Answerbase sees that up to 75% of questions answered by Answerbase convert to a sale (View a Product Q&A Case Study), so you'll want to make sure the Q&A product that you're using is focused on conversions and effectively managing the content in order to produce conversion results for you.   You also need to make sure that the solution is tracking and reporting on those results.   It shouldn't be complicated to do, the solution should offer some kind of tracking script that you can copy from their administration tools and place into your order confirmation page like this: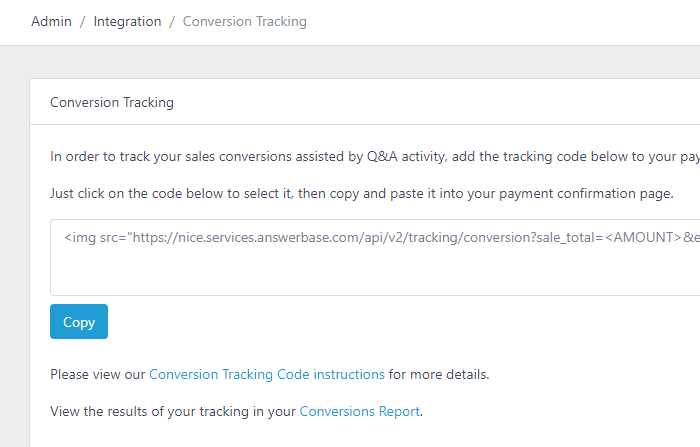 This will ensure that the solution can monitor all engagement that users are having with the question and answer content and then report back to you on the exact ROI that you're getting from  that engagement.   Ensure that the solution you select is not only providing the ability to track, but giving you an ROI of multiples of what you're spending.
In Closing…
There are many other things that product Q&A engagement can do for ecommerce stores in order to ensure you're getting the most value out of your customer engagement, but the items are listed above are some of the "must have" items you should be looking for.   If you'd like to speak to a specialist about any of the above items or all the additional benefits that product page questions and answers bring to ecommerce merchants, we encourage you to Schedule a Free Consultation with a product Q&A expert who can talk you through.
Hope everybody is well and happy selling!