Answerbase has doubled the overall traffic to our ecommerce site, and increased our organic search traffic by four times!
Driving Shopify Organic Traffic
Your product expertise should be utilized through using product Q&A content appropriately, which consequently Google will eat up and spit out in their search results to warm customers who are asking similar product questions…and lead them right to your Shopify store.
Answerbase's Shopify product Q&A app creates a brand new landing page for valuable Q&A combinations, all which are optimized for search and can draw their own traffic.   This ensures that when customers ask similar product questions on search engines related to the products you're selling, they see your results.  This helps to drive relevant search traffic to your Shopify store with customers who are ready to buy.  Our customers see this grow their organic search traffic year over year to their online store….and the most impressive metric is that this traffic has an average lifetime value (LTV) up to 2x higher than those coming through normal search queries.
Take a look at the below screenshot on how this plays out where you see an Answerbase customer with placements in the top to spots as customers search for products they sell…and they've already addressed a similar inquiry through their product questions and answers.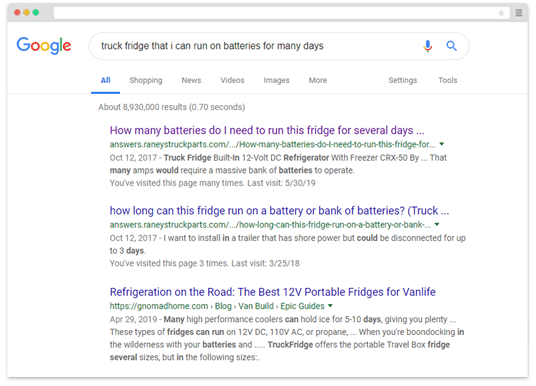 The next chart is also importan.  Keep in mind that its ONLY showing organic search traffic growth specifically to the Q&A landing pages over a 5 year period.   That is brand new traffic to your Shopify store attained simply by servicing existing customers well and publishing that content effectively.

Epestsupply Case Study
Epestsupply deployed Answerbase to increase their ecommerce traffic to their online store. The results of the integration was a dramatic increase of traffic to their ecommerce site, where the product Q&A content doubled their overall traffic and quadrupled their organic search traffic.
Try Answerbase for Free
Quick and easy integration to see how it works.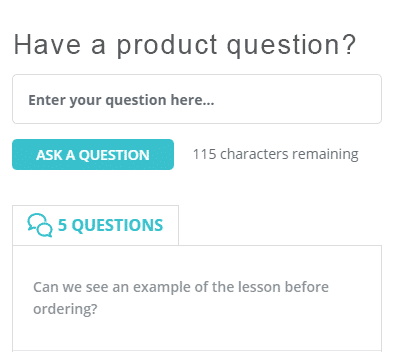 Drive Traffic to Shopify Product Pages
Answerbase increases your Shopify traffic, but it can also improve the SEO for your Shopify product pages as well through adding original and relevant product question and answer content to those pages.
Product question and answer content that Answerbase generates will display the most popular Q&A threads for each product, adding new unique content that is most relevant for the products you have listed on your Shopify storefront.  That naturally improves the SEO of your existing product pages in an organic process, as Google recognizes that Q&A content on the page and when customers search with similar key phrases…your product pages will come in up in the results.   This enables you to enhance the search relevance of your product pages in a smart way, which hits the nail on the head for real customer inquiries as customers are asking product questions through Google and other search engines.  The result is that people who ask similar questions about products on search engines find your product pages on your Shopify store….and that they're ranking higher than competitors.  The end result is driving more customers to your Shopify store in order for them to purchase.

As most website owners know by now, Google promotes sites that are experts in their field. As the number of Q&A's have increased in our database we have seen correlating increases in search placement.
More Valuable Customers from Search
Product Q&A content on your Shopify store drives search traffic and new customers customers to your site with a higher average lifetime value (LTV) than others coming from search.
Avg Lifetime Value (LTV) of Search Visitors to Product Q&A Content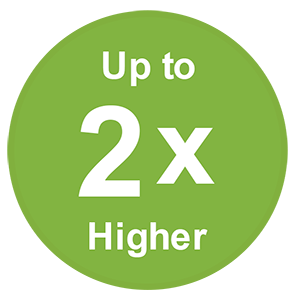 than other ecommerce customers acquired through Google searches.
It's not just about driving new traffic to you're Shopify store, its important to understand whether that traffic is valuable or not in accomplishing your goal of increasing new sales.  The average revenue lifetime value (LTV) per new customer acquired from product Q&A content generated through Answerbase is up to 2x higher than those from normal organic Google visitors!   They're asking questions related to purchasing products, and by the time they get to your site they're primed to convert to a new sale.
Start a free 30 day trial today!
No credit card required, no contract...just plug it in and see how it works.